Hi Guys!
If you didn't know, I'm a HUGE reader. 9 times out of 10, if I have any free time and I'm either not at work, the gym or working on my blog, I probably have a book in my hand. And lately, I've been REALLY into books that are like the motivational/inspirational kind you know? So I figure I write a little post detailing the ones in my collection recently that I've absolutely been loving.
So, in no particular order, let's get started!
* * * * * *
You Are A Badass; How To Stop Doubting Your Greatness And Start Living An Awesome Life. By: Jen Sincero
This is actually SUCH a great book. I just recently finished it, and I honestly did not want to put it down. It's not complex at all, it's actually really light-hearted and funny, but the main points being made throughout it are super clear. Ultimately, it's one entire book filled with stories, advice, and exercises to try on your own in order to help you understand why you are the way that you are, change the things in your life you don't like or aren't happy with and create a life for yourself that you completely love. 100% recommend to anyone that may be feeling like they're at a bit of a stand-still with their life.
Click here to purchase it on Amazon or here on the Barnes & Noble website.
2. The Subtle Art of Not Giving A F*ck; A Counterintuitive Approach to Living A Good Life. By: Mark Manson 
Now this book….this book right here is a fucking gem. It's a pretty popular book at the moment, and has been for a while. This is another one of those books that's super light-hearted, but at the same time it's amazingly raw and inspirational. It's pretty much taking everything that most inspirational books will tell you like the whole 'when life gives you lemons, make lemonade' motto, and saying fuck that. Mark Manson goes into detail without at all sugar-coating anything, that sometimes shit happens and you just kind of have to learn from it and move on. He talks about learning to accept each and every one of your flaws and learning to make something out of them all. It's so raw, vulgar, and overall an amazing MUST read lol.
Click here to get the hard cover or paperback version on Amazon, or here to get it at Barnes & Noble.
3. The Four Agreements: A Practical Guide to Personal Freedom. By: Don Miguel Ruiz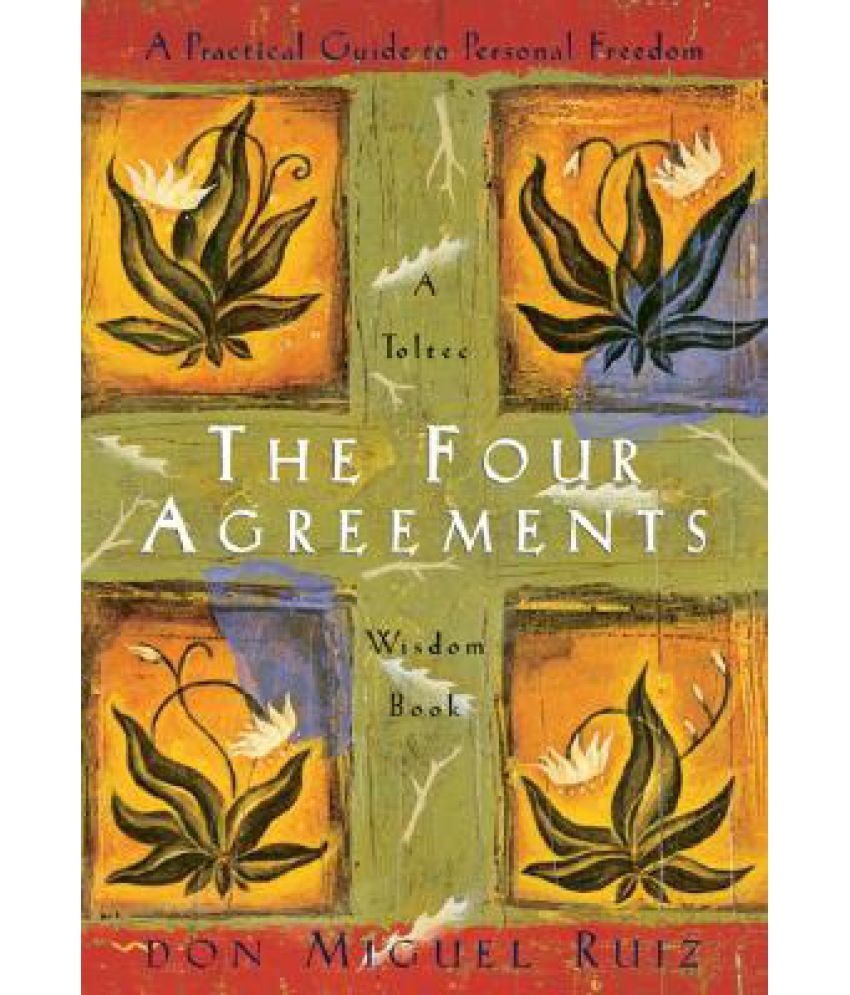 This is a great book for inspiration and helping to put things into perspective in your life. This little book is almost completely based off of Toltec wisdom, and it teaches about these 4 agreements that help to ensure you're living your life to be able to experience love, freedom and true happiness. If you're not much of a HUGE book reader, but are still looking for some reading inspiration, this book might be perfect for you because it's tiny and gets right to the point of things.
Click here to purchase it at Barnes & Noble or here on Amazon.
4. Mindfulness: A Practical Guide. By: Tessa Watt.
If you're anything like me, then every so often you need to read books like this, because they pretty much remind me to slow down and really enjoy/live in the moment, which I tend not to do very much, as much as I may want to. This book is all about being mindful. It gives tips and exercises for you the reader to try on your own and bring in to play in your day to day routines. There's breathing tips, meditating tips if you're into that, etc., and it just overall tries to help you be more open and mindful of the things in your life and around you that you might not typically be aware of. Another short, but very helpful and inspirational book I would say and recommend.
Click here to purchase the book at Barnes & Noble.
5. 50 Things That Really Matter. By: Hallmark, Rodale Inc.
This is a REALLY good and cute little book, because it really puts everything into perspective, for me anyway. You have so many people around the world that always tend to fixate on the dumbest little things, but does any of that REALLY matter? This book really breaks it down and not only names, but describes in detail, 50 realistic things in life that may seem minor, but SHOULD really matter to a person. As they say, it's the little things in life, you know?
Unfortunately, I don't remember where or how I bought this book, and have been looking all over the place online for a legit site to be able to link for you guys to be able to purchase this from, and all that's coming up is Ebay. So if anyone else happens to look it up and finds it, please let me know and I'll link it, unless you guys trust Ebay, then that's totally fine too.
What are some of your guys' favorite books to read when you're looking for some extra motivation? I'd love to hear it in the comments below and get some book recommendations from you guys! 🙂
-Xoxo, LeoGirl ❤
---
Follow me on social media! 🙂 :
Instagram: @thatleogirlem
Twitter: @carpe_diem_x33
Facebook: Emily C. Hernandez