For my third Blogmas post, I thought, why not talk a little bit about some holiday movies?!! So, today I'm going to be speaking about MY favorite Christmas movies, and hopefully you guys can relate to all or, at least, some of them! 🙂
* * * * * *
These aren't going to be in any particular order (as they never are), so let's get started!
ELF
To be honest, whether it's around the holidays or not, I LOVE watching this movie. It's a great family movie that really never gets old to me. Will Ferrel is hilarious and it's definitely a great Christmas favorite.
2. A Christmas Story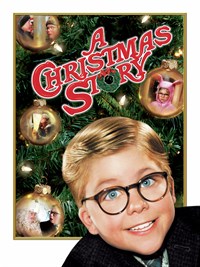 This movie is a CLASSIC!! Every single year on AMC on Christmas Day they give an all-day marathon of this movie, and my family and I will have breakfast, open presents, and then throughout the day just turn it on to watch. It's a mini Christmas tradition of ours that also never gets old.
Side note, I was actually VERY upset/annoyed when I saw that they not only apparently made a part 2, but they also made a "remake, live version" of the original. No shade to any of the actors that were apart of it, but c'mon man, this is a classic. Don't go trying to change and/or modernize it!!
3. Dr. Seuss' How The Grinch Stole Christmas (the original one, with Jim Carrey! 🙄)
FAVORITE FAVORITE FAVORITE!!!! I mean c'mon….who the heck doesn't love the Grinch?! Especially this version! I really wanted to be able to see the new version of it that came out recently, but a lot of people were telling me that it wasn't good or worth it, so even though I was a little disappointed at hearing that, I'm kind of glad because I'm sure it would've ruined my perception of the entire thing including this one.
4. The Santa Claus movies
I LOVE Tim Allen in these movies!! I think it's pretty much the reason I love him as an actor in general. Since I was a kid, these were always my favorite Christmas movies, and I look forward to watching them every year. Just the story/concept behind them all I find so cute and fun, and I can't wait to one day hopefully introduce my own kids to these movies.
5. I'll Be Home For Christmas
This is SUCH a great Christmas movie that teaches you about the value of family and selflessness. I only a few years ago came across this movie (I'm not even exactly sure how), but I'm so glad I did. Plus, I was OBSESSED with Jonathan Taylor Thomas when I was younger and thought he was SOOOOOO cute. Definitely recommend watching this if you haven't seen it before.
BONUS 2!!:
Christmas With The Kranks
Everyone that I know hates and/or doesn't care about this movie for some reason, but it never gets old to me (again Tim Allen is starring in it, so maybe that's why in itself lol). But I think it's really funny, and there's just something about it (although I can't exactly pinpoint what it is), that I really like. It's like cheesy, and somewhat typical of a Tim Allen movie I guess you could say? But I still love it regardless, and love watching it every year whenever I get the chance to.
The Polar Express
This is actually a movie that I only recently started liking, maybe 2-3 years ago, but before that I actually kind of hated it. I don't know why exactly, but I was just never into it, never cared to even try watching it, etc. But, then I finally gave it a chance a few years ago, and ended up really liking it (never judge a book by its cover kids). It's a super cute animated movie especially for kids, and I completely recommend for you to watch it if you haven't already (or at the very least have your kids watch because they would love it).
* * * * * *
I hope you guys enjoyed this post! Let me know in the comments or through social media if any of these are your guys' favorites too, or if not, what are some of your guys' favorite holiday movies? I'd love to hear from you all about it and maybe even get a few recommendations of new ones to watch! 🙂
Thanks so much for reading. Please like, follow, share and comment, and I'll see you guys on Wednesday for my next one! 😀
-Xoxo, Leo Girl ❤
Follow Me On Social Media! 🙂 :
Instagram & Twitter: @Thatleogirlem
Snapchat: Carpe_diemx3
Facebook: Emily C. Hernandez