Hey guys!
Today's post is FINALLY going to be another restaurant review/recommendation type post 🙂
It's been almost 4 months since I've done one of these because we just haven't really been going out to eat much these days, and if we have, they're either regular fast food places or places that I just didn't think were interesting enough to do an entire post on.
About 2 weeks ago though, we FINALLY went to a new place, and I thought it would be the perfect time to take pictures/notes (mental notes, not actual pen & paper notes LOL) and do a post on it.
The name of the place we're going to be talking about today, if you read from the title, is Del Frisco's Double Eagle Steakhouse, which is located in 6th avenue in Manhattan (right near Radio City Music Hall if you're familiar with the area at all).
* * * * * *
The Ambiance
This place is definitely on the more pricey/fancy side, which we don't normally tend to do too much just because unless it's like a SPECIAL occasion (the way it was when we came here), we don't feel the need/want to have to come and spend a ton of money on places like this.
It is, however, always great to be able to get all dressed up and come to a really nice place like this every so often, which is exactly what we got to do when we came here 2 weeks ago.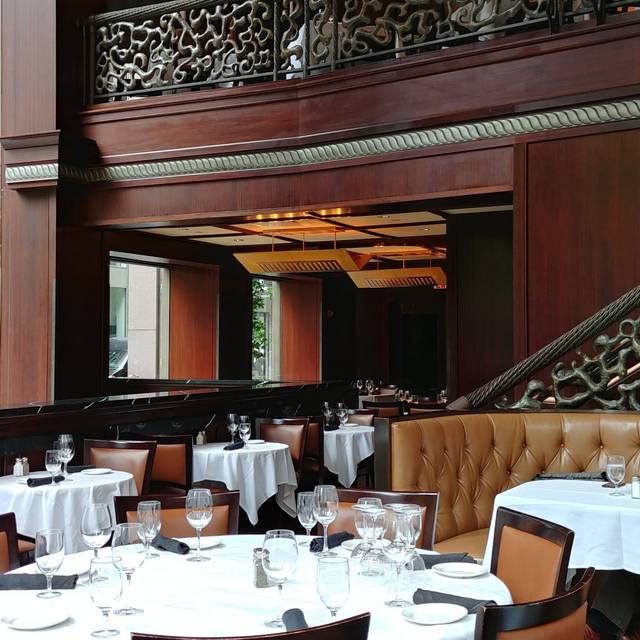 Right off the bat I would say this is the perfect place to go to for an anniversary date, a birthday, or even just a regular date that you may like and/or want to splurge on.
Diego and I came here for our good friend Shakerra's birthday dinner. She was actually the person who chose the place too, I had no prior knowledge of this place whatsoever. After we established that we were coming here though, I did my research and actually saw that they have quite a few different locations around the U.S., but this is the only one  they have in New York.
There was 5 of us, so we had called in beforehand to make a reservation for our party. I don't think reservations are mandated, but they are recommended.
Our reservation was for 7:30pm and easily we spent 2-2 and a half hours here; between waiting to be greeted, taking our orders, waiting for our food, eating, getting dessert, etc. etc… Although 2 and a half hours IS pretty long obviously, it really wasn't that bad being that we were all enjoying each others' company, as well as conversation.
* * * * * *
The Food/Drinks!
For drinks , aside from our water, we all chipped in to buy a bottle of Rosé wine, which Diego, Jessica and I actually really liked.
Shakerra (the birthday girl) and Genaro didn't care for it too much so she ended up getting a sweet sort of wine that I didn't get a chance to get the name of, BUT she enjoyed that one a lot more, and Genaro got a simple cranberry and vodka.
For our food, all of the steaks in the picture(s) below are going to look the same/similar, but I swear some of them ARE different!! haha
Going down the line of what we all got….:
Me: 8 oz Filet Mignon.
Diego: 16 oz Prime Ribeye.
Jessica: 16 oz Prime Ribeye.
Shakerra: 16 oz Prime Ribeye.
Genaro: 16 oz Prime Strip.
We all also got and shared 3 different sides. As you can see in the picture, the sides aren't THAT big, but they were big enough that we all got to pick on and enjoy them altogether.
The sides we ended up getting were: Chateau Mashed Potatoes, Potatoes Au Gratin which had Scallions, Bacon & Aged Sharp Cheddar, and Lobster Macaroni & Cheese (which I personally have never had before, but actually really liked).
As for dessert, Shakerra's boyfriend actually surprised her with a cake at dinner that they brought out when it was time for us to have dessert so that we could all sing happy birthday to her.
It was super cute, and actually tasted REALLY good (I believe it was from 1800flower.com if you guys wanted to check that out).
To complete the review we also ended up getting desserts directly from the restaurant (which are shown below).
On the left is a Butter Cake which has Butter Pecan Ice Cream, Fresh Whipped Cream & Caramel sauce, and on the right is Chocolate Mousse which has Salted Caramel Chocolate Fudge & Miniature Chocolate Cookies.
Y'all know I'm a HUGE dessert person, so this was heaven to me. All of them tasted amazing and were very much worth EVERY calorie.
* * * * * *
General Thoughts
Overall I can 100% say that we all enjoyed ourselves as well as the food here. Everything from the location, the ambiance of the restaurant, our server, and the actual FOOD obviously, was great.
The only minor thing we all didn't care for was the fact that we had to wait for what felt like 45 minutes more or less for our food to come out, which obviously it's a pretty big restaurant so we knew we would have to wait a bit, but we didn't think it would be THAT long either. However, to the same extent, as I mentioned early on in the post, we were very much entertained talking, laughing, etc. so it did help a bit with the wait.
Other then that, everything was really good and we all do 100% recommend it to you guys to try at some point or another. Do keep in mind though as we said, that it is more on the pricey side, but definitely worth the price (we all thought).
As usual though, please try it for yourselves and come to your own conclusion(s) about this place.
* * * * * *
I hope you guys enjoyed this restaurant review/recommendation post. Let me know in the comments or on social media if there are any places in particular around New York that you guys think we should try, and we'll definitely be sure to do that!
Also, let me know if you guys happen to end up trying this place at all, what YOU thought about it, or if you've already been there before, did you guys think it was worth it or not?
I'd love to hear from you all about it! 🙂
As always, thank you guys so much for reading; please like, share, follow and comment I'll see you guys in my next post.
-Xoxo, Leo Girl ❤
Follow Me On Social Media! 🙂 :
Instagram & Twitter: @Thatleogirlem
Snapchat: Carpe_diemx33
Facebook: Emily C. Hernandez
Send me emails for feedback and/or general thoughts or recommendations for future posts: emilyhernandez817@gmail.com