Hey guys,
Happy Tuesday! I hope you all had a great weekend and a good, productive start to the new week.
It is officially Valentine's week and I am SO excited for it! I absolutely love this time of year and the feelings surrounding it. And while I agree and am a firm believer the your love for yourself, your significant other, etc. should not just be showcased that particular day, but everyday, I think it's still really sweet to make that day special for yourself and/or someone else. I just love love and any sort of romantic gestures like that.
So, in light of Valentine's Day being this weekend AND NYC getting the green light to open indoor dining at a 25% capacity, I wanted to create a post highlighting some of the best restaurants that I've been to with Diego that not only have great food, but also a cute, romantic-ish ambiance to it that could give you guys some suggestions for where to take someone on a date this weekend if you're planning on it.
I also want to just mention quickly that I am well aware that we are still in the middle of a pandemic and am in no way, shape or form ENCOURAGING people to go out and gather/dine in restaurants, however, I know that people are going to do it regardless of this fact unfortunately. So, I do want to just encourage you all to do your research and if you are planning on going out this weekend, please take the necessary precautions to be safe and distant from other people that are not apart of your group(s).
* * * * * *
I have 6 different restaurant suggestions on my list that vary in price range, ambiance and food. While I'm going down the list, I will make brief suggestions for what we've gotten and I recommend you try, talk briefly about the prices and the service we received while there.
So, without further adieu, let's get into it….
NoMo Kitchen – SoHo
This restaurant was so cute. All of the greenery, the hearts designs and open feel to it. We've only ever come here for brunch, so that's what I will recommend it for, but they also do lunch and dinner.
They have a bottomless brunch special here where for $29 per person, you choose an entree and get an unlimited specific drink (we usually do mimosas, but they also have Rose Royale, Bloody Marys, NoMo Pimm's Cup and Virign Salty Dogs) for 90 minutes.
Some suggestions you guys should definitely try:
Avocado Toast
Lemon Ricotta Pancakes
French Toast
Service: The first time we went, the service was pretty great and fast. We really enjoyed ourselves and even without having to call over the server, they kept refilling our glasses. The second time we went, however, the service wasn't as great unfortunately. We did the bottomless brunch and the service was so much slower. There were times where we couldn't even find our server for periods at a time, which considering we were paying for the unlimited mimosas for 90 minutes, was obviously annoying.
Price wise: $$
Overall, I would say to try it out if you're really interested in it and come to your own conclusions. I know a bunch of people that went after we did and had a GREAT time.
Final thought & fun fact: There's also a hotel attached to this restaurant, which Diego and I stood at once and really liked as well. Rooms were kind of small, but it's cozy and in a great location in SoHo.
2. The Greens: Pier 17
Cabins have been all the rage recently since indoor dining was shut down again and the only way to be able to eat at restaurants in NYC were either outdoor dining or takeout. EVERYONE has been doing their own versions of cabins or igloos, which I actually think are really cute.
Diego and I came here for a random date night and I loved it. Not only did we have the cabin to ourselves, but it also had heaters within it (that we could control) and air purifiers. It was all contactless ordering and paying, and minimal contact with everyone.
Price: $$ – $$$ depending on what/how much you order.
I will say, the menu is pretty minimal. They don't have TOO many options for food or drinks, but there was enough that we obviously both got something we liked.
Some of the items to consider trying:
The burger
The fried chicken
The grilled cheese
The bottle of rose

Something else to keep in mind: when making the reservation, you have to pay $50 to hold the reservation (it's prepaid, and my only guess is because of how popular it's been) AND each reservation is only 90 minutes (although I'm not sure if you're able to extend your time because we didn't try doing that).
3. PJ Clarke's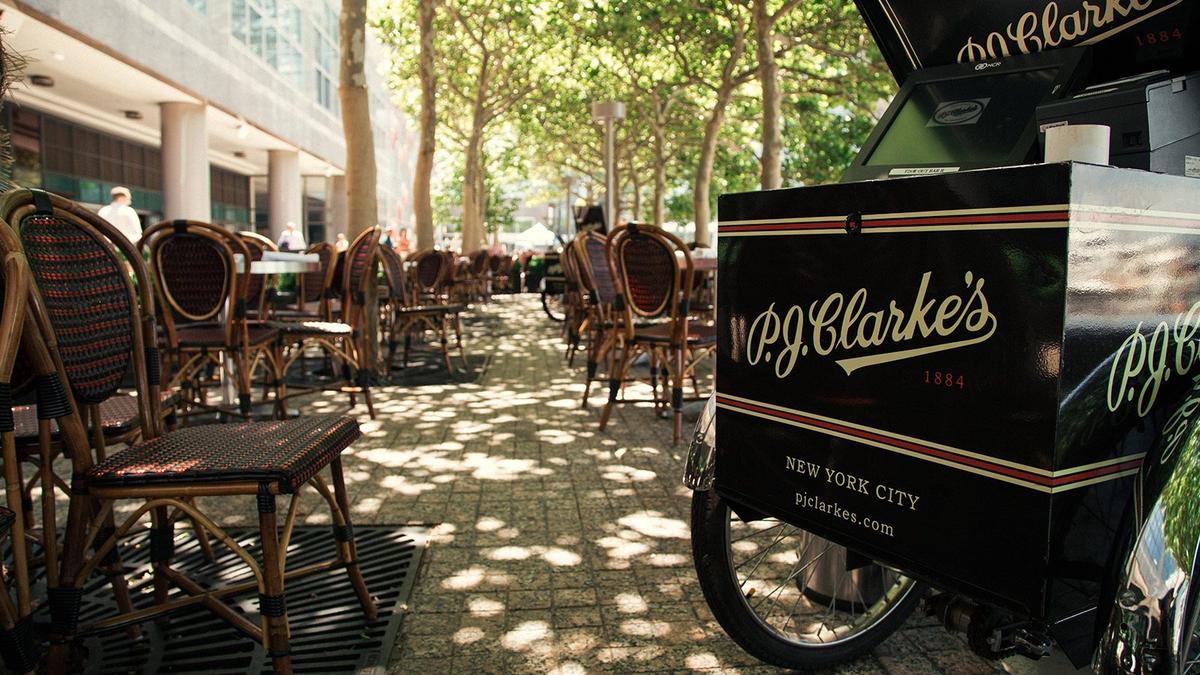 When things were normal, Diego and I loved to go to this place. The food, service and location/views are AMAZING. They have 2 locations for this restaurant, but the specific one we love going to is in Brookfield Place, near the Freedom Tower. We've gone here for regular date nights, anniversary dates, and just because.
Price: $$ – $$$
Our favorites:
Prime Skirt Steak Frites
The Clarke Burger
Grilled Shrimp & Shishitos
Buffalo Wings
Berne Romance rosé
Chocolate cake
4. The Crooked Knife
This restaurant has like 2 different locations in the city as well, but the particular one we usually go to is in 14th street. This is actually where Diego and I went for our Valentine's day date last year.
This is another great brunch spot that does a bottomless boozy brunch for $42 per person. You get any entree with unlimited bloody Mary's or mimosas for 90 minutes.
The service was great and so was the food.
Diego loves his burgers so he usually gets that or the steak & eggs, and I get the Govn'r omelet which is SO bomb.
Price range: $$
5. Bowery Meat Company
This is actually the restaurant that Diego and one of my best friend's took me for my birthday this past year. Located in downtown NYC, just off Bowery and 1st street. This is a bomb ass steak house. They have all kinds of steaks that you can possibly imagine, plus pastas and other things, but they are predominantly known for their steaks.
Now I will say that this is the MOST expensive place out of everything I am suggesting, so I 100% believe that it's worth it, but just keep in mind that you will be spending a pretty penny here.
Some of the things we got and that I recommend:
Prime New York Strip
Whipped Potates
Kung Pao Chicken lollipops (weird name, but SO freakin' good)
Spinach Sauteer
Fresh Baked Chocolate Chip cookies (with vanilla ice cream)
Price: $$$$$
6. Lola Taverna
This is a place that we have yet to try, but I/we saw this on TikTok recently and thought it looked so cute and it's definitely something we hope to try soon. It's a Greek cuisine themed restaurant. The floral decor outside looks so beautiful and the reviews are pretty great for the most part as well.
Price: $$
* * * * * *
That is basically it for my restaurant suggestions, BUT I wanted to throw in 2 dessert place recommendations as well, because why not, right?
Dominique Ansel Bakery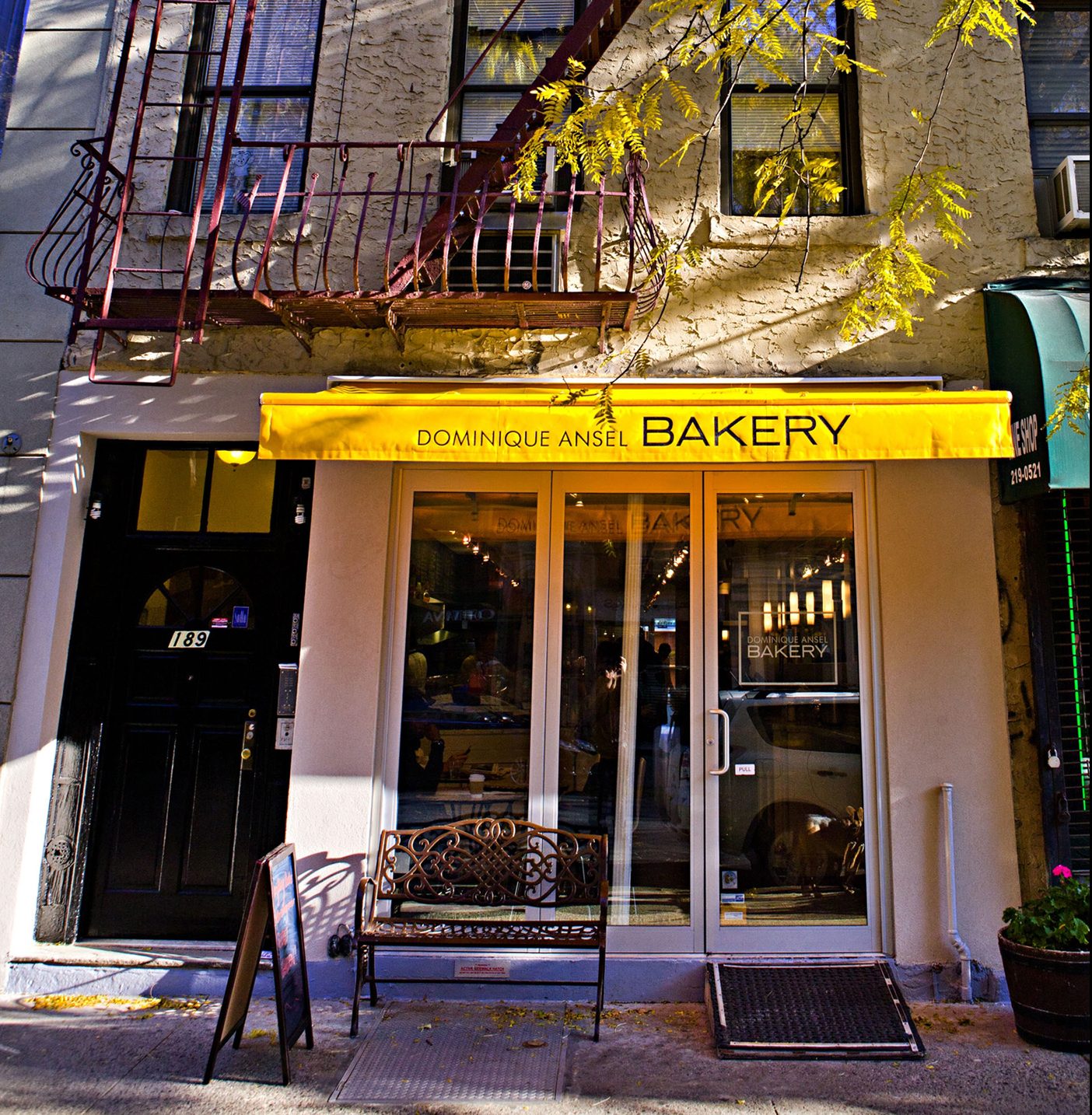 I made an entire TikTok video about this about a month ago, but it's definitely a must try if you haven't already. It can be a little pricey, but again, I think it's definitely worth it. They have great desserts here. It's located in SoHo (Spring St.).
Some of my absolute favorites to have:
Cronuts
Chocolate chip cookie shots
Croissant
Chocolate chip cookies
Price: $$
2. Little Cupcake Bakeshop
This is a great bakery shop in SoHo as well (Prince St.). It isn't too expensive and you can actually get a bunch of different things for like $50. They have everything from cookies to cupcakes to cheesecakes and regular full sized cakes.
Price: $-$$
* * * * * * *
I hope that you guys enjoyed this post and it helped you in some way, shape or form!
If you end up going to any of these places, please hit me up and let me know what YOU end up thinking about it. I would LOVE to hear your guys thoughts on them.
If you liked this post, please be sure to drop a like and don't forget to follow if you haven't already.
Thank you guys so much for reading, and I'll catch you in the next one!
-Xoxo, LeoGirl
Follow Me On Social Media! :
Instagram & Twitter: @Thatleogirlem
Snapchat: Carpe_diemx33
TikTok: Emilyc.hernandez
Facebook: Emily C. Hernandez
YouTube Channel: Emily C. Hernandez
For Business Inquiries, email me at: emilyhernandez817@gmail.com