Hey guys,
Long time, no see!
I hope you're all doing well and staying as healthy and positive as you possibly can throughout the crazy times we're currently living in.
For today's post, I wanted to talk about some stuff that's been going on recently. This is going to be a bit deep and apart of all of the spirituality stuff I've been talking to you guys about recently, so if you don't really believe in that stuff or aren't interested in it, then you should probably stop here and skip this post.
Before I continue I also wanted to mention that, no, all my posts moving forward are NOT going to be solely spirituality based. In fact, this may be the last one for a while (unless you guys really are interested in it and want me to continue to speak about it). I just wanted to be able to bring you guys along for this mental health/spirituality journey that I've been on for the past few months.
* * * * * *
Where I'm At Right Now
At this point, it's been about 4 months since I've officially been diagnosed with anxiety, and 5 months since I started feeling everything that I mentioned previously. I've been VERY open with you guys about everything that I had been going through, the good, the bad and the ugly. I've also let you guys know all of the things that were helping me to cope with that anxiety, but today I want to talk to you about something deeper that's been helping and the results I've been getting because of it.
To just be straight up about it, I believe that the MAIN 2 things that have been helping me the absolute most recently are my crystals and prayer.
*DISCLAIMER BEFORE I CONTINUE: I AM NOT ONE TO PUSH RELIGION OR MY GENERAL BELIEFS ON TO ANYONE. EVERYTHING I AM GOING TO BE TALKING ABOUT ARE JUST THINGS THAT HAVE WORKED FOR ME PERSONALLY AND I WANTED TO SHARE THEM WITH YOU GUYS IN CASE YOU HAVE FELT STUCK LIKE I HAVE THE PAST FEW MONTHS AND CHOOSE TO GIVE THEM A TRY ON YOUR OWN.*
* * * * * *
What's Been Working
Going through sudden and intense anxiety attacks the way that I was, was one of the scariest things I've ever gone through in my life. There were times where it literally felt like I was losing control of my mind and body, and even felt like I was going to die at any minute (sorry to be so gruesome, but it's true).
People (my family, friends, etc.) would tell me left and right that I was going to be okay eventually, I just had to give it time. As nice as it was to hear those things from those people, it didn't feel like enough. In spite of everyone telling me the same things over and over again, I was still FEELING how I was internally, and it was terrifying.
I turned to every single book, online article, and even spoke to a clairvoyant, in hopes that it would give me the ease in mind that I was looking for.
I. WAS. DESPERATE.
Desperate for someone to give me new information about myself, what I was feeling, or simply just give me hope that this in fact was going to pass (and hopefully soon).
So, I ended up turning to something that I hadn't really done in YEARS.
PRAYER.
The past few months I have been praying with my crystals like CRAZY asking God/the Universe to send me a sign; any kind of sign that I am going to be okay because of how scared I was about it all. Every single night before bed (still to this day) I pray with my crystals. I talk to God/the Universe about my day, the good and the bad, what I'm struggling with, what I'm hoping for, what I'm thankful for, etc. In the morning I do something similar where I talk about my hopes for the day, how thankful I am to have been able to wake up to another beautiful day, etc.
It may not seem much to some, and even when I first started doing it again, I didn't think it was doing much, but the more you do it, the better you feel (I think). Even after doing it for about a month, that I felt it wasn't doing much or that "nothing was happening," internally, for mental health, I felt SO good about it everyday. I actually looked forward to saying my prayers every morning to start the day and every night before going to bed. It became part of my routine.
It wasn't until I least expected it, about 2-3 months after I was doing it that I really started to notice "THE SIGNS."
* * * * * *
The Signs
A sign could potentially be anything to anyone. What's a sign to me, may not be a sign to you, it may just look like whatever to you, and that's okay, but I want to talk to you guys about some of the signs I was seeing that started letting me know my prayers were actually being answered and slowly but surely, things were getting better.
When I first started seeing them I second guessed it a LOT because I kept thinking "maybe I'm just so desperate that I'm making it up," "maybe these things were always here and I'm only just noticing them," etc., but that wasn't the case at all, and I'll tell you why when I mention them….
2 monarch butterflies.
It took me a while to realize this one. Everyday throughout quarantine during my hour lunch break, my best friend Geno and I would walk around the park that I live across the street from, but to start each walk, we would always sit on these benches in the middle of it and just talk.
It took me about 2 weeks to realize these butterflies were FOLLOWING me….crazy? Let me continue….I live in the South Bronx, across the street from a park that isn't necessarily the cleanest. And I've lived here my entire life. When I tell you you never see butterflies like that in the park, you NEVER SEE BUTTERFLIES LIKE THAT IN THE PARK!! (iykyk). The most you see are the little basic white ones that are always usually in parks.
I really started to realize them when every time I was in the park with Geno, they were always hovering around us. And every time I would go home and sit outside in front of my house, one of them would always be there. So, I decided to look up the meaning of them and this is what I found….
"Butterflies are seen as a symbol of foretelling and spiritual transformation in Christianity. In Catholicism, they are a symbol of rebirth, a strong theme throughout many religious texts. … According to some sources, a Monarch butterfly in particular is a sign that you are on the right path to achieve your goals."
Geno noticed them too and realized that it was always when we were sitting in that spot/area that they would appear and be around us. After a while, when I realized their purpose, they weren't around anymore.
2. Dragonflies
This one I realized halfway through the summer. Again, we live in an area that things like dragonflies really aren't all that common to see around. Plus, dragonflies are SO fast when they fly, you could barely see them to begin with unless they're settled on a spot for you to be able to notice them.
My dad actually noticed this one after a while too and it was only when we were sitting on our back patio that we would see them flying/hanging around. Again, I decided to look it up and this is what I found…..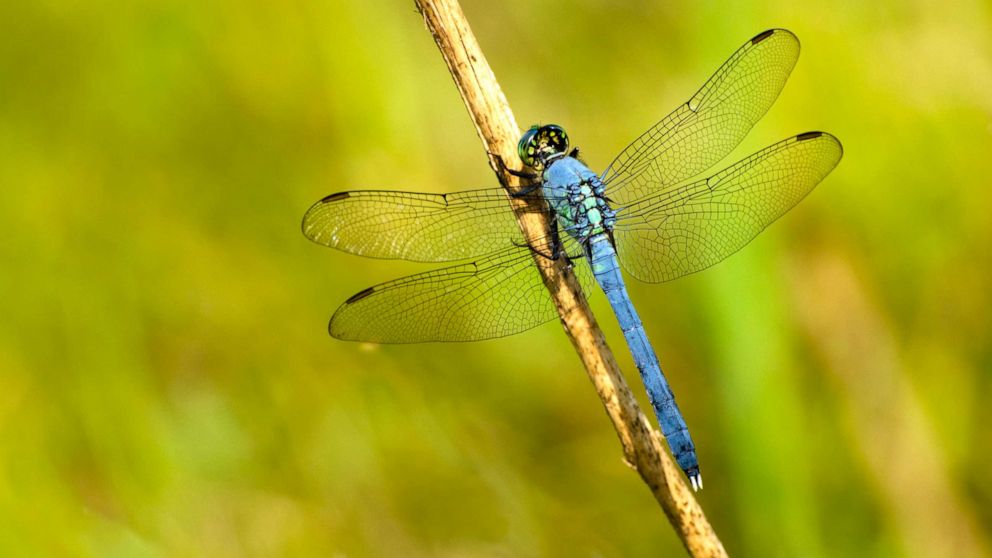 "In almost every part of the world, the Dragonfly symbolizes change, transformation, adaptability, and self-realization. The change that is often referred to has its source in mental and emotional maturity and understanding the deeper meaning of life."
They too disappeared after I really started to pay attention to their presence and purpose.
3. Bees
This one kind of pissed me off because I HATE bees, but hey…you can't/shouldn't question the Universe, right? Lol.
I started noticing this one when Geno and I would actually start having lunch at one of the park tables instead of walking around like we used to.
Now I know what you're thinking, bees are definitely everywhere, especially in parks, and I agree with you. That's why at this point I started questioning whether or not the things I was seeing/encountering were actually signs or I was just doing too much. HOWEVER, Geno would even agree, the bees were always flying to me specifically; on me, next to me, etc. (and not just in the park, we would be walking around Manhattan and the same thing would happen. And no, I don't wear fragrances or anything like that that would attract them!! Anyway, once again, although at this point I was definitely skeptical, I still decided to look it up and this is what I found….
"The bee symbolizes community, brightness and personal power. Follow the bee to discover your new destination. Bees are a symbol of wealth, good luck and prosperity since Ancient times. Charms in the shape of a honey bee are said to be good luck for attracting wealth."
4. Finally, a white dove.
I'm just going to start this one off by saying, who the HELL randomly sees a white dove in the South Bronx?? Especially one that lands right next to them and stays staring at them for like 5 minutes, and even let me go towards it and didn't flinch or immediately fly away like a bird normally would?!
This one really blew my mind.
However, because I felt no one would believe this one, I not only took a picture, but I also made my parents see it as well before it left. And as soon as they came out, the dove flew up and landed right next to my dad on the banister. I believe that the dove had 2 purposes and was also a sign for him as well.
Some people said this was an albino pigeon, but when I looked up what a dove looked like, it looked the same to me. Regardless, of course I HAD to look this one up, and this is what I found….
"White doves are symbolic of new beginnings, peace, fidelity, love, luck and prosperity. Their release is a tradition that has been making ceremonies, rituals and celebrations more powerful and meaningful for thousands of years. Releasing doves uplifts the eyes, signifies new beginnings and true celebrations in flight."
* * * * * *
Sorry this post is so long, but I really wanted to share this stuff with you guys and let you know that the Universe is ALWAYS listening and sending you signs about your life paths believe it or not, you just have to pay attention to them, even if they seem a little far-fetched!!
This is also why I am SUCH a firm believer that if you are a good person who does what he/she has to do, you are a believer and ask, I promise you will receive. It may not be today, tomorrow or in a week, but it WILL happen. You just have to keep your faith, continue to believe and also PUT IN THE WORK. The Universe isn't going to just give you what you want a silver platter. You have to ask, but also do your part!!
🧿🧿I've been so blessed in more ways then one these past few weeks, and I can't wait to finally be able to share with you guys how/why I say that, so stay tuned for it!🧿🧿
I hope you guys enjoyed this post and managed to read it til the end. Love you guys, thanks so much for reading, don't forget to drop a like and hit the follow button if you're new and I'll see you in the next one! ❤️❤️❤️
-Xoxo, LeoGirl
Follow Me On Social Media! :
Instagram & Twitter: @Thatleogirlem
Snapchat: Carpe_diemx33
TikTok: Emilyc.hernandez
Facebook: Emily C. Hernandez
YouTube Channel: Emily C. Hernandez
For Business Inquiries, email me at: emilyhernandez817@gmail.com